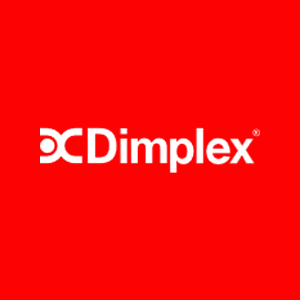 40 Items
Page
You're currently reading page

2
40 Items
Page
You're currently reading page

2
Dimplex heater guide
Dimplex is part of the Glen Dimplex Group, the largest electrical heating business in the world.
For the past 70 years, they have been renowned as a leader in electrical heating products, manufacturing over 700 products that contribute to energy efficiency electric heating appliances and systems.
The brand calls upon continuous improvement, modern design and ongoing innovation to deliver market defining heating solutions.
Bathroom panel heaters
The company offers a number of stylish bathroom heaters that deliver high-comfort convective heat and towel warming radiant heat. These panel heaters also feature rails to allow towels to be dried easily.
We supply a range of high quality Dimplex bathroom panel heaters, including the Dimplex BPH Glass Front Bathroom Panel Heater and the Dimplex Bathroom Panel Heater.
LOT 20 compliant
All heaters manufactured after 1 January 2018 must be fully compliant with the European Energy Directive LOT 20.
We supply an extensive range of LOT 20 compliant Dimplex heaters that meet the LOT 20 eco-design requirements. These heaters are not only environmentally friendly, they will also help you to save money on energy bills.
Panel heaters
Ideal for providing background heating solutions for rooms such as hallways and small bedrooms, Dimplex panel heaters heat up a space quickly and efficiently, using convection heat or a combination of radiation and convection heat.
We supply a range of high performance Dimplex panel heaters, including the Dimplex DXLWP Slimline Low Wattage Panel Heater and the Dimplex DXLWP 800w Slimline Low Wattage Panel Heater.
Designer panel heaters
Dimplex designer panel heaters offer a stylish heating solution for bathrooms, proving that practical products can also enhance the overall look of your room.
The BPH glass-front bathroom panel heater, for example, is available with a choice of a modern metal facia or a tinted mirror effect glass front, allowing you to match the high-performance heater to your bathroom.
Smart heating
We supply a range of Dimplex smart heating products that will work alongside your Dimplex heater to enhance its performance.
The Dimplex radio frequency module, for example, allows you to control and monitor your heating and hot water with Dimplex control, while the Dimplex ethernet or WiFi control hub acts as the bridge between RF Dimplex products and the Dimplex control cloud server.
Portable
We supply a range of reliable, cost effective Dimplex portable heating solutions that will provide the perfect additional heating for your home or office space, including the Dimplex Cadiz oil free electric radiator and the Dimplex OFRC oil free electric radiator.
Dimplex portable heating solutions have been designed to offer convenience and flexibility, without compromising on performance.
Dimplex FAQs
What does LOT 20 compliant mean?
LOT20 is Europe-wide legislation that enforces minimum efficiency standards for electric space heaters, in a bid to reduce energy waste and help meet carbon reduction targets.
Relating to products manufactured after 1 January 2018, LOT 20 compliant heaters must meet the necessary guidelines. So, for example, installed heating requires new, more advanced controls, while portable heating solutions can no longer be wall mounted.
The good news is that LOT 20 compliant products are not only significantly better for the environment, but they should also save you money on your energy bills by ensuring you don't pay for wasted energy.
Are Dimplex heaters expensive to run?
While it isn't possible to provide exact details on running costs due to the large number of variables involved, Dimplex heaters are renowned for being efficient and cost effective. Overall, electric heaters are one of the most cost-effective ways to provide supplementary heat for a living or working space.
How does a Dimplex heater work?
Dimplex electric heaters vary according to style and model, but all are powered through electricity.
The manufacturer's convection heaters, which work by pulling cold air through the bottom of the heater and passing it through a hot element to heat it, before pushing the warm air out of the top of the heater. Any cold air is then pushed downwards and gets pulled through the bottom of the heater.
They also offer heaters that combine convection and radiant heating. Radiant heaters work by warming people or objects, rather than the air. These types of heater create rays of energy that only convert to heats once they hit and are absorbed by the body or an object.
Why is my Dimplex heater not working?
If your Dimplex heater is not working, this could be for a number of reasons, but most issues are caused by a faulty thermostat or a blown element.
Are Dimplex electric heaters any good?
The company are industry leaders when it comes to producing reliable, high performance heaters. Dimplex electric heaters offer a high level of control and efficiency, whilst they also meet environmental regulations and are cost effective to run.