Which Electrical Sockets Are best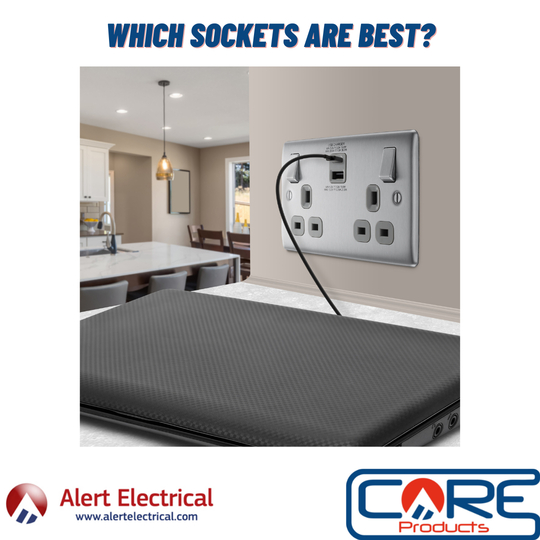 Which Electrical Sockets Are best
Electrical Sockets can be purchased from Electrical Wholesalers, DIY stores or online websites. Electrical Wholesalers supply electrical contractors and electricians but they will also supply the public and most have an online presence via an ecommerce website. DIY stores also have an online presence however the real specialists offering the greatest range are still the electrical wholesalers and distributors. The terminology in the UK for the common sockets mounted together with 3 pins for the UK market are 'Twin Socket' or 'Double Socket'. Mostly these have 2 rocker switches for both socket but they can also be unswitched. They are rated at 13a 240v. There are also 2 pin 3a or 5a versions designed for a dedicated lighting circuit in the home.
Where Should Electrical Sockets Be Placed?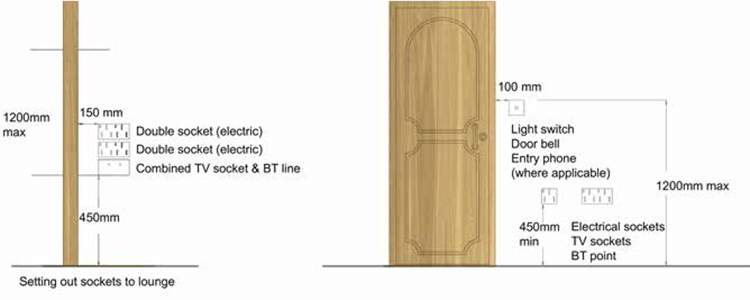 Electric Sockets should be located so that they are easily reachable.  Part M of the building regulations and BS 7671 concerning the height of switches and sockets states that a person with limited use should be able to reach them easily (Scotland is not included).
For habitable rooms in new buildings electrical sockets should be placed a minimum of 450mm from the floor and no closer than 350mm to any corner. These regulations do no apply to uninhabited rooms such as kitchens and garages.
Lastly make sure they are installed with a spirit level, nothing so annoying as a wonky socket!
Which Sockets Are Best?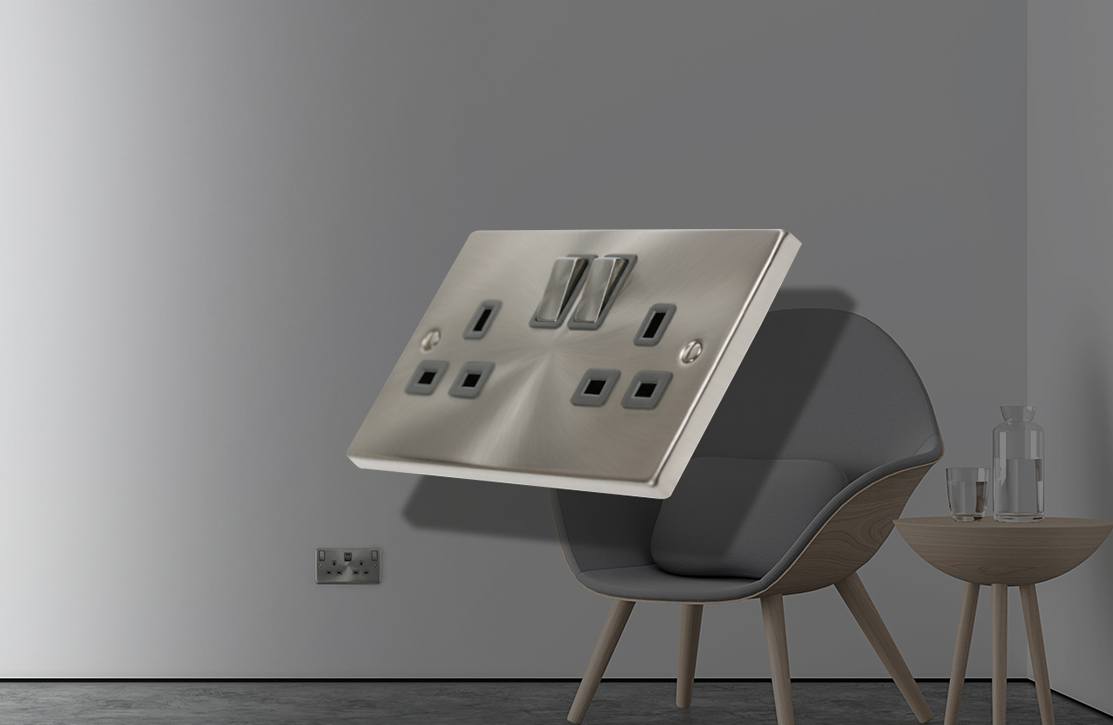 White moulded electrical sockets are still by far the most popular.  Within this there are square edged or rounded edged switches to choose from depending on the style required.  Then there are the decorative sockets in a range of different finishes and styles.  Weatherproof sockets designed to be mounted outdoors and metalclad sockets designed for garage or workshop use. Finally there are the industrial sockets that are colour coded for the voltage that they are designed to carry with a specific pin layout for the number of circuits.  The common colours are yellow; 110v 3 pin deisnged for portable equipment on building site.  Blue 230v ~ 240v 3 pin for warehouses etc. and Red 415v 3 phase, either 4 pin 3 ph + N or 5 pin 3 ph + N + E.
Decorative sockets can be used in the whole house, just down stairs with white upstairs, or just in the kitchen where they are popular alongside a newly fitted kitchen.  Below we have added some of the sockets available on alertelectrical.com 
Knightsbridge Curved Edge 13A 2G SP Switched Socket CU9000S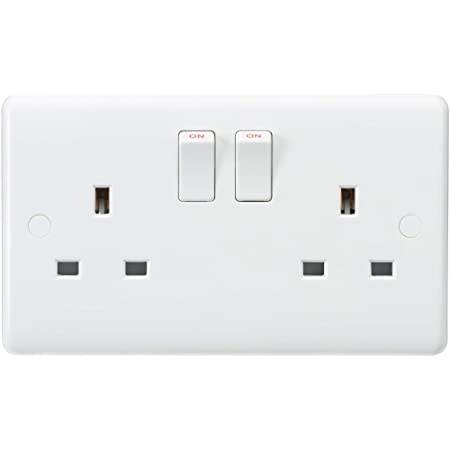 Click Mode 2 Gang 13A Switched Socket & Twin Fast Charge USB 5V 2.1A Charging CMA78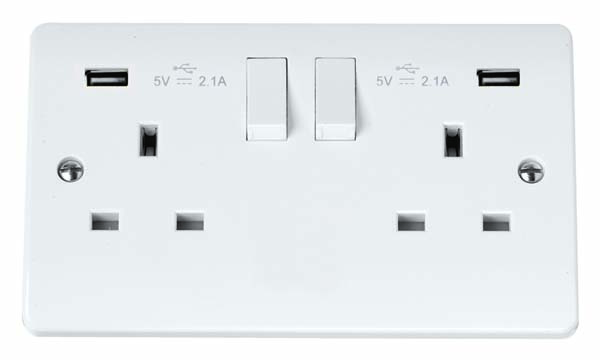 BG Nexus Brushed Steel 13A Socket with 30W Type A + C USB Grey Insert | NBS22UAC30G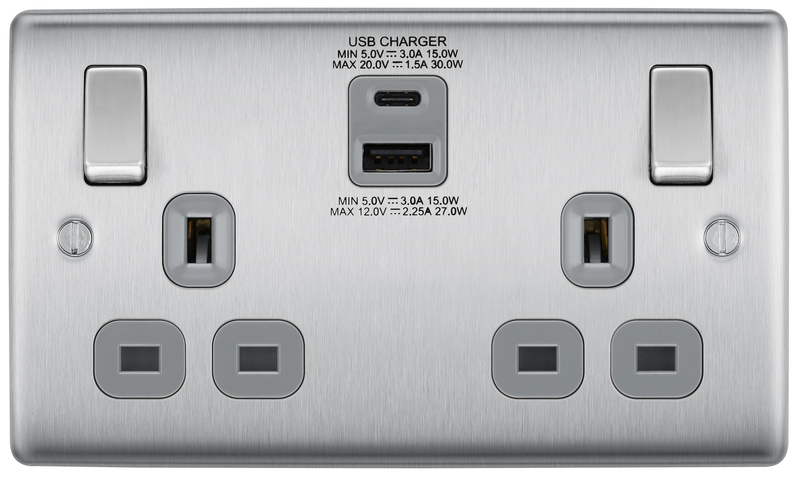 BG Nexus Black Nickel 13A Socket with 30W Type A + C USB Black Insert | NBN22UAC30B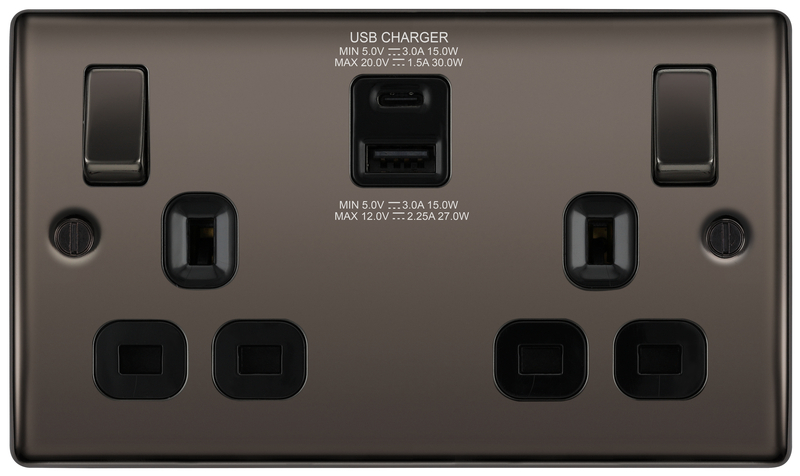 Who Invented Electrical Sockets?
This is the earleist reference that we could find in WIkipedia
When electricity was first introduced into houses, it was primarily used for lighting. At that time, many electricity companies operated a split-tariff system where the cost of electricity for lighting was lower than that for other purposes. This led to portable appliances (such as vacuum cleaners, electric fans, and hair driers) being connected to light bulb sockets using lampholder plugs.[19]
As electricity became a common method of operating labour-saving appliances, a safe means of connection to the electric system other than using a light socket was needed. Thomas Tayler Smith of London, England received British patent 4162 in 1882 for an "Electric-Circuit Connection" to "enable the electric conductors conveying the current to one or more lamps, or along a flexible cord, to be rapidly and safely brought into connection with the line or main wires". Smith subsequently received US patent 311,616[20] for the same device in 1885. According to British Author John Mellanby[21] there were British patents for plug and sockets granted to T.T. Smith in 1883 (No. 3883) and W. B. Sayers & G. Hookham in 1884, (No. 16655). Mellanby also writes that there were two-pin designs by 1885, one of which appears in the (British) General Electric Company Ltd. catalogue of 1889. Gustav Binswanger, a German immigrant who founded the (British) General Electric Company Ltd, obtained a patent (GB189516898) in 1895 for a plug and socket using a concentric (co-axial) contact system.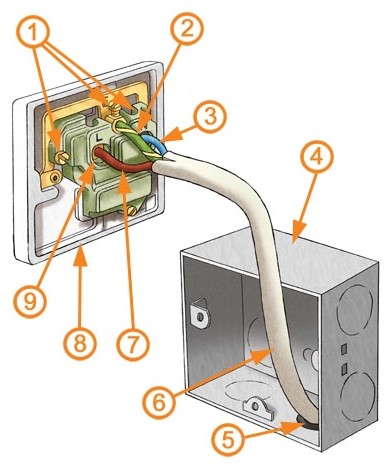 How Do Electrical Sockets Work?
1. Terminal screws secure Live, neutral and earth conductors
2. Thre earth cable allows electricity to travel to earth in the event of a short circuit.This cable is coloured green and yellow.
3. The neutral cable carries electricity back to complete the circuit.  This cable is coloured blue.
4. A back box, either flush glavalnised, or a surface patress made from the same material as the socket.
5.  Rubber grommets are fitted to the 20mm knock out hole in the steel glavanised back box to protect the cable.
6. Twin & Earth cable contains the LIVE, NEUTRAL and EARTH conductors. 
7. The LIVE cable carries electricity to the appliance.  This is the conductor thaty is switched.  The colour of the conductor is brown.
8. Socket with the electrical terminals mounted on its rear.
9. Terminals connect the live, neutral and earth conductors.  They are secured by the terminal screws, there should not be any bare conductor showing outside of the terminal.
For more information on Electrical Sockets please go to https://www.alertelectrical.com/sockets-and-switches.html