It can be quite daunting Investing in a CCTV system as there are lot of things to consider. Whether purchasing a kit to protect your home or business, you want to be safe in the knowledge that you've chosen a set-up that best suits your needs.
The Benefits of Having a CCTV System
Reduce Crime Rate, Up to 70% reduction for peace of mind
Complete coverage. Monitor your property 24 hours a day with constant recording
Capture every angle. View several angles of your property simultaneously
Deter thieves. Visible cameras can put potential thieves off
Monitor Valuables. Monitor precious targets such as your car or business stock
Protect your business. Monitor staff arrival times, breaks and time away from their desks
Monitor Doors. Who's visiting when you're not there, delivery men, tradesmen, intruders?
Safety. CCTV set up can make some feel more at ease in their own home
Stay alert. Some kits provide instant alerts to your phone or smart device
Prosecution. Visual evidence strengthens your case when it comes to legal matters
Camera Type
We have a variety of camera models available, all with different features. it can be hard to decide which type best suits your requirements.
Bullet Cameras
Bullet Cameras are more compact, which makes them more inconspicuous to intruders. Bullet Cameras are ideal for monitoring the home or staff as they are small and can be fixed in place making them less obtrusive.
Dome Cameras
Dome Cameras are harder to tamper with and less likely to be vandalised. Dome cameras are less obtrusive and can be installed on soffits and ceilings making them suitable for both indoor and outdoor use.
Resolution
Resolution is an important option to consider. Higher resolution cameras capture more detail.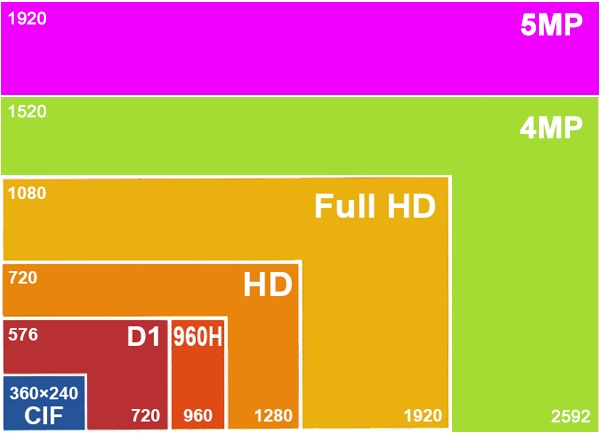 Alertelectrical.com aim to take the hassle away from making sure you have high quality images as we only stock 2- & 4-Megapixel cameras ensuring that you always have a HD quality image. Higher quality recording helps to protect in the event of theft or crime you will be able to identify details such as faces and number plates which is a minimum requirement to be admissible as evidence.
System Types
Analogue CCTV is based around a DVR or digital video recorder with cameras hard wired to it using coax cable. You only need a single cable running to each camera as this can also provide 12-volt power as well as transfer video signal back to the DVR. This is more commonly known as Shotgun Cable.
Because the cameras are wired directly into the DVR no strain is placed on your network regardless of resolution. The only time you use the network is if you want to remote access the system and it will keep recording even if the network fails or phone lines are cut. Fault diagnosis is much easier as there are fewer components talking to each other.
Over the past few years there have been significant improvements in Analogue CCTV so it is now possible to get good quality high definition images. Alertelectrical.com have HD 2.1-megapixel 1080P or 4 Megapixel 2688 x 1520 resolution systems to suit all applications. Our HD Analogue CCTV cameras come in a variety of lens options, not just wide angle and it's possible to get genuinely long optical range cameras without spending too much money.
A common misconception is that only IP camera systems can be remote accessed over the internet. All our HD Analogue CCTV recorders can connect to your network and can then be accessed within the property over the local network or from anywhere in the world over the internet using a computer, phone or tablet.
Join Tony Cable in welcoming the new range of CCTV Cameras from ESP. With its 4mp sensor you can see up to 2 times more detail than regular HD Cameras. https://www.espuk.com/ Music by Joakim Karud http://youtube.com/joakimkarud
IP CCTV uses your network which in a home or small business will be based around your internet router to constantly stream images from the cameras to an NVR or network video recorder. Each individual camera is assigned an internal IP address on the network as is the NVR. Power for the cameras is fed into the network by a power injector, this is known as power over ethernet or PoE. There may be a number of network connectors or switches and possibly a separate network storage device which holds all the footage.
You can use high resolution cameras but there is a danger that as the number of cameras increases too much strain is placed on the network and frames start to drop off. Don't forget that as well as the CCTV system your network will also be handling internet, streaming television, video games, phone internet and more. You also need to balance camera resolution with how long you can store footage for.
One appeal of IP systems is the ability to integrate wireless cameras but there are some things to keep in mind. Walls and distance all serve to reduce signal strength and interference comes in many forms.There are many devices competing for bandwidth in the same frequency bands such as baby monitors, alarm systems and of course internet routers.
An IP CCTV system ends up being quite complex with several components having to talk to each other. The cameras will use a protocol which must be recognised by the NVR and the NVR needs to talk to the network as well as anything connected to it such as the data storage device, your computer, tablet, phone and so on. If there is a failure within the network then the CCTV won't work. Fault diagnosis can be tricky if you aren't an IT god and remote support is extremely difficult.
4.0 MP IR Network Bullet Camera 1/3" progressive scan CMOS 2560 × 1440@20fps 4 mm fixed lens H.265+, H.265, H.264+, H.264 Dual stream 120dB WDR (Wide Dynamic Range) 3D DNR (Digital Noise Reduction) Up to 30 m IR range PoE (Power over Ethernet) IP67