Last Minute DIY Christmas gifts from Alert Electrical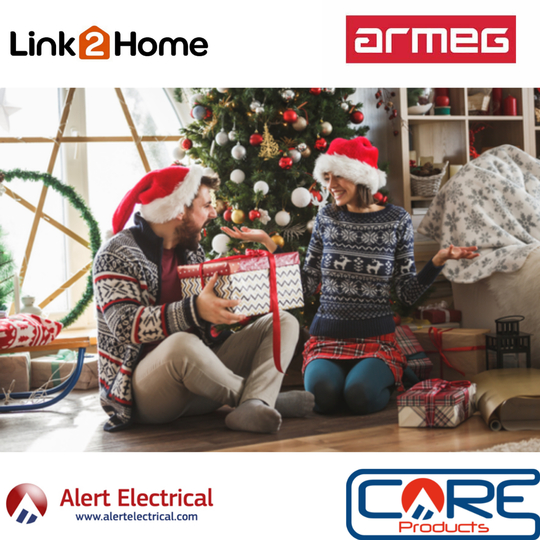 Last Minute DIY Christmas gifts from Alert Electrical
For that DIY'er, we have some Last-Minute Christmas gifts in stock to arrive before the big day
The Armeg SDBTTPZ2 is a six-piece PZ2 screw-driver bit kit which aids to provide accessibility in awkward areas such as overhead use and tight spaces.
This allows for one-handed screw driving and features a magnetic collar that can be removed allowing screws to be driven below the surface if required. The ¼" shank is twister impact rated for Impact Drivers.
The Link2Home LED Floodlight with PIR and WiFi Camera is a motion activated security camera floodlight with a 125dB siren alarm. It features motions and sound detection with 2-way audio and Full HD video recording for a complete security package. The floodlight cam features 2 x 12.5W light panels providing 2000lumens of light. Equivalent to a traditional 125Watt floodlight in a compact robust body to light up your surroundings weather that be a driveway, garden or office carpark. The floodlight detects motion and sound and if anything changes, it instantly sends an activity alert to your device.
Through the app screen you can draw your detection area so that you only focus on the areas that matter and eliminate false alerts from things like trees and shrubs. This floodlight cam is fully integrated with Alexa Echo Show and Google Screen devices including Google Chromecast. Just ask your smart speaker to access your camera device by saying "Alexa show me the driveway" or "Hey google show me the office car park on the living room TV".
The Armeg 6mm Impact Rated Magnetic Nut Driver is perfect for fastening sheet metal screws and hexagonal nuts / bolts. The Magnetic Nut Driver Features a ¼" quick-change shank and Strong rare earth magnet maximises the connection with fasteners for secure holding.
The Link2Home WiFi & Bluetooth Smart 10M LED Strip Light is Alexa and Google compatible and has the added bonus of Music Sync for those at home Christmas parties.
Use the Link2Home app to control individual lamps or to control a room or the lighting in the whole house by grouping lamps. Fully integrated with Alexa and Google Assistant. Just ask your smart speaker to control your light device or group by saying "Alexa turn on the hallway" or "Hey Google! turn the living room green". Use the Link2Home Pro app to set up precise timers that can be customised by days of the week. Set up countdown timers too. Use the Link2Home Pro app to set up precise timers down to the minute that can be customised by days of the week and repeated. Set up countdown timers up to 23 hours 59 minutes.
To grab these last minuet items please click on the images and links above.