Dimplex Quantum: Intelligent electric heating whenever you need it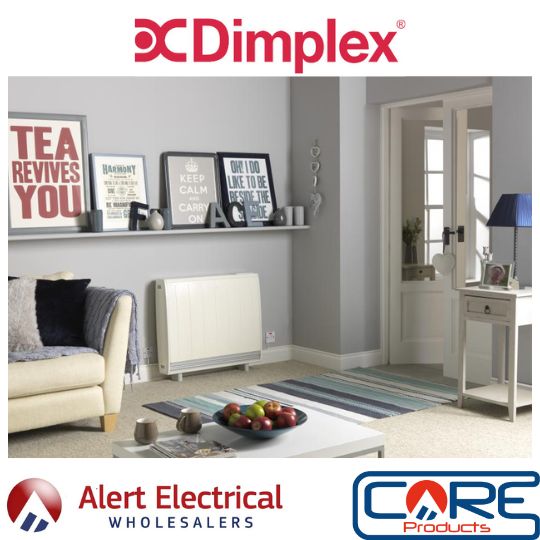 Dimplex Quantum: Intelligent electric heating whenever you need it
The Dimplex Quantum is the world's most advanced, lot 20 compliant and SAP accredited high heat retention storage heater. These units are designed, developed and manufactured in the UK by Dimplex, it stores up low-cost, off-peak energy to be used on demand through the day, making it the most economical electric heating on the market today.
Quantum has three customisable heating timers, each with four time and temperature settings for each day of the week, and can intelligently adapt to match the climate and your lifestyle, delivering heat only when it is needed - 24 hours a day.
Great value, great savings
Quantum stores up energy during periods of low demand, turning it into efficient heat only when needed. By using primarily off-peak energy, it is predicted that 90% of the heating requirement will be met with low-cost energy, offering you savings of up to 27% compared to a standard storage heater system** and up to 47% compared to an electric convector or radiator system**. So while Quantum is warming your home it is also saving you money.
Intelligent control for 24/7 comfort
Now with upgraded iQ controls, Quantum retains rotary dial operation and adds more intelligent software functions than ever, including the intelligent automatic charge control. This algorithm learns your usage, lifestyle and climate conditions and adapts accordingly, using only the required amount of low cost, off-peak electricity needed to charge the unit to meet your heating requirements. This ensures that no energy or money is wasted, so you can relax and enjoy your perfect room temperature – all without lifting a finger.
Give your home a Boost
The newly added 'Boost' function provides a more specific temporary boost of heat outside of timed heating periods, in addition to the existing 'Advance' function. An improved 'Away' mode allows for a return time and/or date to be set, allowing the heater to maintain a lower background temperature in your absence to avoid mould or damp, before returning to regular timed operation upon your return. Other features of the new Quantum Series G.6 include PIN-code locking with customisable rulesets, per-heating mode peak-rate/stored energy control, 'setback' temperatures, frost protection, charge control offsets and more!
Take Control with Dimplex
For the first time, Quantum (RF models only) can now be remotely controlled via the internet using the Dimplex Control smartphone app*. With Dimplex Control, you have total command of your supported Dimplex products, anytime, anywhere. The app allows you to control and configure your heaters or hot water cylinders, individually or by zone, and easily track the energy usage of each.
* Requires additional hardware, sold separately. An RFM Radio Frequency Module and a Dimplex Hub device are required for this product to connect to the Dimplex Control system and be controlled via the Dimplex Control smartphone app.
For further information on the Range of Dimplex Quantum Storage Heaters or to place your order please Click on the above links and images.