New Electric Heater Regulations 1st Jan 2018 - LOT20
New Electric Heater Regulations 1st Jan 2018 - LOT20
October 19, 2017
LOT20 requires all local space heaters manufactured for sale in the EU after 1st January 2018 to comply with a new minimum efficiency standard.
How do you define a space heater?
Local room (or space) heating products are defined as appliances that provide heat to indoor spaces by generating heat in the location within which they are situated. Like other product categories, the aim is to rule out inefficient technologies and reduce the energy used in our homes, helping to achieve our overall carbon reduction targets..
All heater types have been assessed to give each technology its own level playing field. The legislation does not seek to promote one technology above another; to support or deny the claims of manufacturers about their own products; or to disadvantage customer groups with a particular investment or interest in a particular technology.
Instead, all improvements derive from enhanced controls which must be adopted to earn the efficiency improvements required of each heater type. Where controls are electronic they may either be Integrated or External to the heater.The legislation anticipates that significant energy savings can be achieved by more accurately heating rooms when the heat is required and reducing wasted energy from overheating.
Using external controls, LOT 20 recognises that external control systems are a significant factor in improving efficiencies and encouraging the use of effective zoning. Unless they are mechanical, it is NOT the case that controls need to be integrated into the heater itself.
Products Affected
Electric "commercial" local space heaters
Electric "storage" local space heaters
Electric "fixed" local space heaters
Electric "portable" local space heaters
Electric "underfloor" local space heaters
Electric "radiant" local space heaters
How LOT 20 Works:
All heater types are given a baseline "seasonal space heating efficiency" figure and must reach a corrected target to become compliant. They can be classified "Best Available" by exceeding this target. The target varies by heater category type, and can be met or exceeded by adding controls which are deemed to add efficiencies.
Will It Increase Costs?
Lot 20 requires that the consumption and emissions for local space heaters must be reduced by applying "existing, non-proprietary technologies" without an increase in the combined costs of purchasing and operating the products.

In order for manufacturers to comply their products will have to meet the minimum efficiency target for that class of heater and have the necessary controls available to compliment the heater(s).
What About Old Heaters?
Lot 20 applies to electric space heaters manufacturred after 1st January 2018. It does not apply to products manufactured before that date, either already purchased or currently in stock at your electrical wholesaler or distributor.
Energy Efficiency Calculations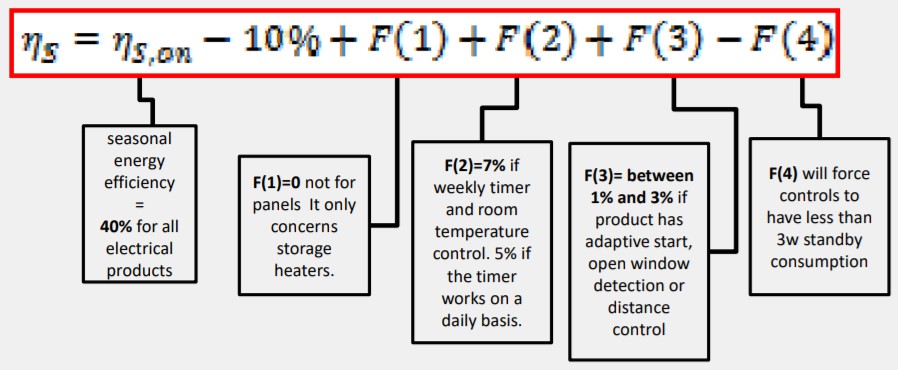 Making Products Compliant
The three compliance measures for F3 in the above formula are:
Distance Control Option
Allows remote interaction from outside the building in which the product is installed, e.g. use of an app. to delay the heating from coming on when you are home late to save energy.
Adaptive Start Control
Predicts and initiates the optimal start up of heating in order to reach the set point temperature at the desired time. This means that the minimum energy is used to get a room to temperature, rather than it being heated up too early because of poor user estimation (on at 6am to be warm at 7am etc.)
Open Window Sensing
Integrated into the product. The product shuts down when a window is open to save energy. This is done by monitoring output against temperature rise, and stopping if the correlation is negative.
Impact On Individual Product Categories
Storage Heaters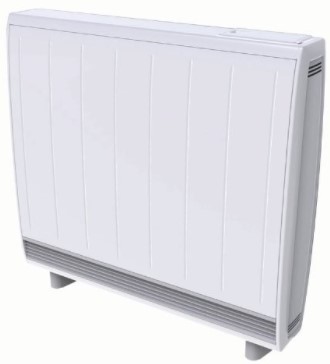 The standard ranges of manual, auto and combi will be replaced by smart models with 7 day timers, temperature sensing, window sensing and adaptive start.
Panel Heaters
Models with side mount controls, rotart thermostats, 'No controls', 24hr timers will be replaced by smart models with 7 day timers, temperature sensing, window sensing and adaptive start.
Unaffected Products
Secondary heating products like Towel Rails and tubular heaters.
These heaters are LOT 20 compliant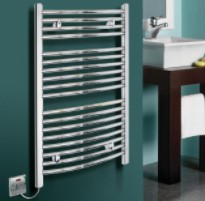 Farho Ecogreen
ATC lifestyle
Dimplex Qrad panel heaters
Dimplex quantum storage heaters
Air master CED Panel heaters
Dimplex BPH panel bathroom panel heaters
Please view more at alertelectrical.com by clicking Electric Heaters