Surge Protection Simplified: Click Scolmore's Elucian SPD Main Switch Consumer Units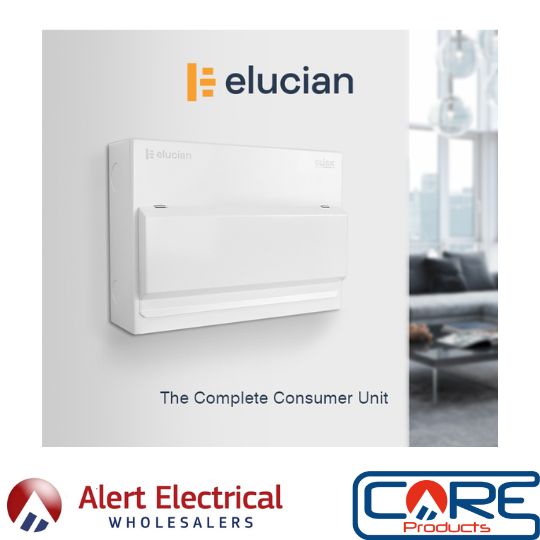 Surge Protection Simplified: Click Scolmore's Elucian SPD Main Switch Consumer Units
Let's delve into the world of surge protection and explore the impressive features of Click Scolmore's Elucian range, designed to keep your electrical systems and gadgets safe from harm.
Surge protection is essential in today's technology-driven world. Electrical surges, whether caused by lightning strikes or power grid fluctuations, can wreak havoc on your electronic equipment, leading to costly repairs or replacements. Surge protection devices (SPDs) are your first line of defence against these damaging electrical events.
The Click Scolmore Elucian Advantage
Click Scolmore, a trusted name in the electrical industry, brings you the Elucian range of SPD Main Switch Consumer Units, designed with precision and innovation to ensure maximum protection for your property and devices. Let's explore what sets this range apart:
Cutting-Edge Surge Protection Technology: The Elucian range features state-of-the-art surge protection technology, providing instantaneous response to voltage spikes and surges. This advanced technology ensures that your electronics are shielded from harm, no matter the source of the surge.
Space-Efficient Design :Designed with practicality in mind, Elucian consumer units are compact and space-efficient. They can be easily integrated into your existing electrical infrastructure, saving valuable space while enhancing safety.
Easy Installation :Click Scolmore's consumer units are known for their user-friendly installation. Electricians will appreciate the straightforward setup, ensuring that your surge protection is up and running without hassle.
Comprehensive Range :The Elucian range offers a variety of configurations and sizes to suit different applications. Whether you need surge protection for your home, office, or industrial setting, Click Scolmore has a solution tailored to your specific needs.
Durability and Reliability : Click Scolmore is renowned for manufacturing robust and reliable electrical products. The Elucian range is no exception, built to withstand the test of time and provide continuous protection for years to come.
Why Invest in Surge Protection?
Protect Your Investments: Your electronic devices, appliances, and valuable equipment represent significant financial investments. Surge protection safeguards these assets from sudden electrical surges, saving you money on costly replacements or repairs.
Ensure Business Continuity: For businesses, downtime due to damaged electronics can be detrimental. Surge protection ensures business continuity by preventing costly disruptions.
Peace of Mind: Knowing that your property is equipped with surge protection provides peace of mind. You can rest easy, even during severe weather events or electrical disturbances, knowing your investments are safe.
Don't leave your property and electronics vulnerable to the unpredictable nature of electrical surges. Invest in Click Scolmore's Elucian range of SPD Main Switch Consumer Units and fortify your defenses against voltage spikes and surges.
With their cutting-edge technology, space-efficient design, and unwavering reliability, these consumer units are your ticket to a safer and more secure electrical environment. Protect your investments, ensure business continuity, and enjoy peace of mind with Click Scolmore's Elucian surge protection solutions.